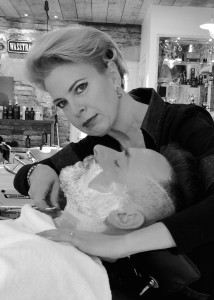 Barbiera's Barbershop Dishoekhof 1
Herenkapsalon Barbiera's Barbershop is de eerste echte Barbershop in Tilburg Reeshof gerund door vrouwen. Bij Barbiera's barbershop wordt een man ouderwets goed geknipt en geschoren. Stap binnen en beleef het. Ouderwetse vakmanschap, vintage, goede muziek met een kop koffie/thee of biertje erbij. Een plek waar een man zichzelf kan zijn en volledig aandacht en advies krijgt. Mannen zijn bij the Barbiera's in goede handen, zij beheersen de schaar en het mes tot in finesse.
Geknipt en geschoren met aandacht.